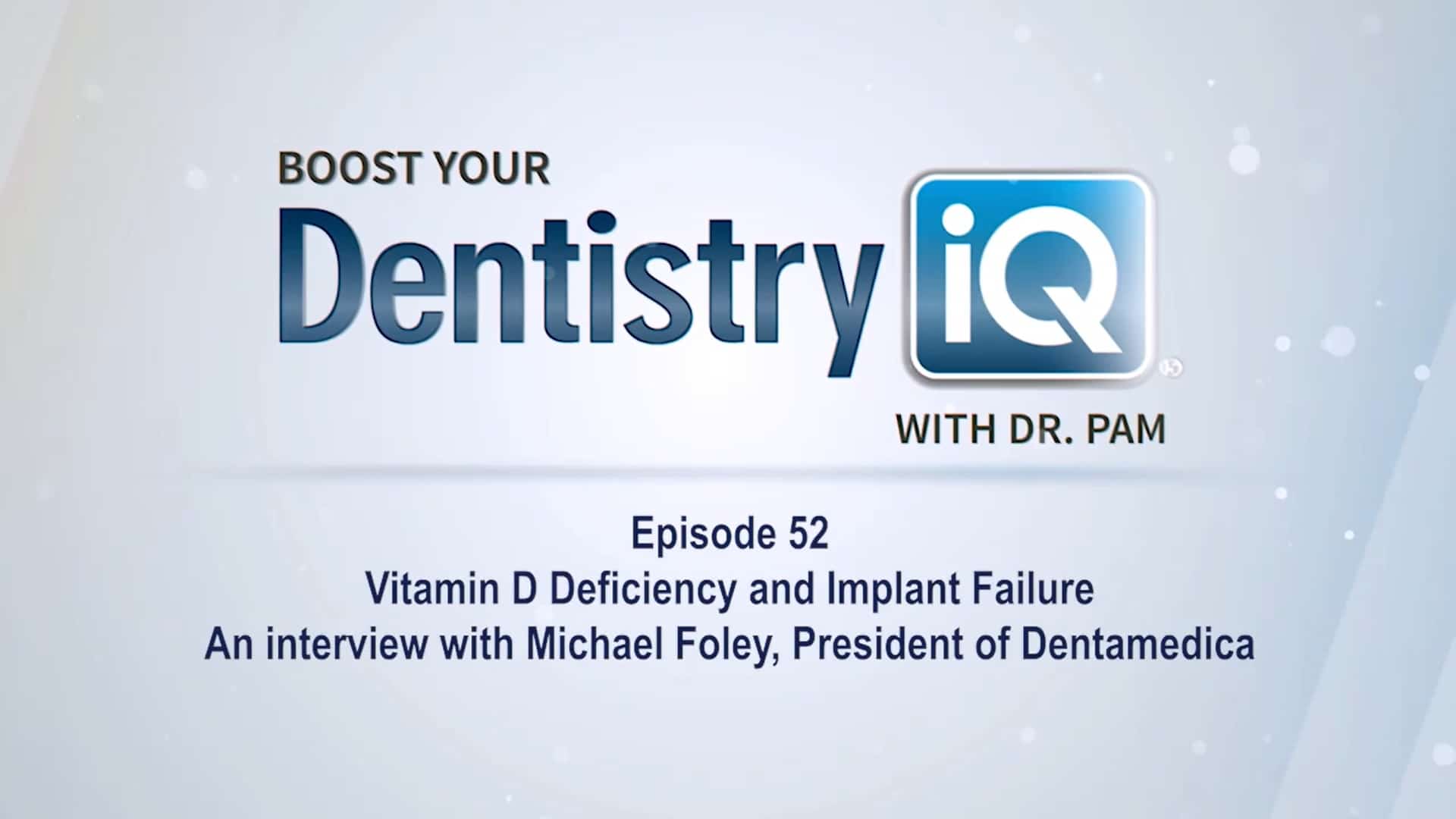 How does a patient's vitamin D intake (or lack thereof) affect the success or failure of the person's implant? More research is being done on this topic. Michael Foley of Dentamedica elaborates. -- Pamela Maragliano-Muniz, DMD What is the role of Vitamin D for an implant to successfully survive in a patient's mouth? Michael Foley, president of Dentamedica, says that studies of Vitamin D as it relates to dentistry during the last 10 to 20 years are providing answers. Vitamin D has been well known for its benefits as an immune booster for a long time, but its benefits have only recently come to the attention of those in the dental profession. During his discussion with Dr. Pamela Maragliano-Muniz, Foley says studies show that 40% to 70% of Americans are Vitamin D deficient. It is now being learned that these people are at greater risk of implant failure. What can dentists do to check whether their implant patients have enough vitamin D? Dentamedica provides a simple pin-prick blood test for dentists to use on patients. If someone is deficient, Dentamedica also offers supplements for patients to take before the implant procedure and for two weeks after surgery.
There are more Vitamin D and dentistry research results being shared all the time. To learn more, take a few minutes to watch this video discussion. https://vimeo.com/441911817 Click here to view the original article
About Michael Foley, The Ceramic Implant Guy Schedule a Meeting! About Michael Foley, The Ceramic Implant Guy

Michael Foley, The Ceramic Implant Guy, is a Dental Industry Executive, Distributor of Metal-Free Ceramic Implants, Biocompatiblity Product Entrepreneur and Investor.

He is the President and Founder of Emerginnova which is a distributor of ZERAMEX in the US market. ZERAMEX is a growing company with a solution that is evolved like metal-implants but has all of the benefits of Ceramic Implants. Zirconia dental Implants are a hot topic in Implant dentistry at present time. Patients have a huge demand for the most esthetic and biologically compatible options.

"The future of implants has never looked brighter!"

Michael attended the University of Georgia and throughout school he had his eye on working in export management, representing the U.S. and managing sales to other countries, specifically Europe. His fluency in French led to an opportunity with Anthogyr and their desire to bring their AXIOM implants into the U.S. market. Anthogyr is a dental equipment manufacturer based in France near Geneva, Switzerland. Since working as Anthogyr's North American Agent of distribution and sales in 2006, he has had an interest in biological dentistry.

Michael got engrossed by the idea of ceramic implants after a meeting that he attended in Miami with the International Academy of Ceramic Implants (IAOCI). He then got introduced to the ZERAMEX system, a two-piece, screw-retained ceramic implant. The big reason why Michael became involved in biological dental solutions and ZERAMEX ceramic dental implants is because then and now, all the ceramic implants in the U.S. were manufactured with the implant and abutment as a single piece. This can cause temporization (integration) issues for a patient and make removing the abutment difficult. No one knows more about the Dental Implant market and the future of this sector than Michael Foley. Michael is often being invited as an expert on the industry trends by dental professionals and dental health enthusiasts.

Schedule a Meeting!
DentaMedica® – The science behind dental healing
Buy Now