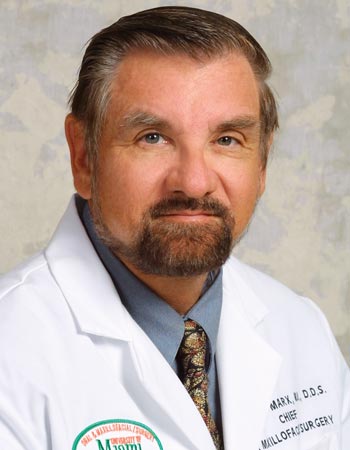 Robert E. Marx, DDS is Professor of Surgery and Chief of the Division of Oral and Maxillofacial Surgery at the University of Miami Miller School of Medicine, and is well known as an educator, researcher, and innovative surgeon. He has pioneered new concepts and treatments for pathologies of the oral and maxillofacial area as well as new techniques in reconstructive surgery.

His many prestigious awards, including the Harry S. Archer Award, the William J. Giles Award, the Paul Bert Award, the Donald B. Osbon Award, and the Daniel Laskin Award, attest to his dedication and commitment to the field of oral and maxillofacial surgery.

His textbook "Oral and Maxillofacial Pathology: A Rationale for Diagnosis and Treatment" has also won the American Medical Writers Associations Prestigious Book of the year Award and his other textbooks "Platelet Rich Plasma: Dental and Craniofacial Applications", "Tissue Engineering", "Oral and Intravenous Bisphosphonates Induced Osteonecrosis", and an "Atlas of Bone Harvesting" have been best sellers. He is a section editor of Oral and Craniofacial Tissue Engineering and serves as a reviewer to many journals.